Main content starts here, tab to start navigating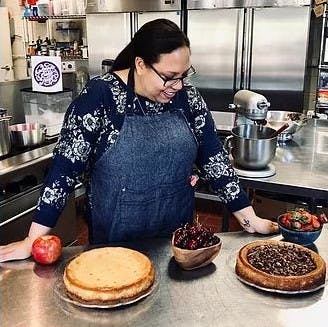 Cheesecake Funk
Vanessa Drews
Blue Birch Restaurant and Cheesecake Funk have partnered together to offer the most delicious cheesecake the Twin Cities has to offer, made right out of our kitchen by owner and founder Vanessa Drews.
The journey of creating cheesecakes began out of her home kitchen in 2002. Vanessa knew she had something when friends and family kindly demanded she bring cheesecakes to all celebrations and holiday gatherings. Baking at home was something she enjoyed in her spare time while working as a Senior Paralegal at Robins Kaplan LLP.
Fast forward to 2013, Vanessa had the incredible opportunity sell merchandise at Paisley Park during concerts and events hosted by Prince. Because she had already been creating cheesecakes for many years at the time, she thought it would be a "Minnesota nice" thing to do and bring cheesecakes into work for people who worked at Paisley Park and band members in town rehearsing.
Little did she know that a certain musical genius would find them in the fridge and try her cheesecakes for himself. He wouldn't be quiet about his fondness for her cheesecakes for long though. Soon after enjoying Vanessa's cheesecakes, Prince began referencing to them on invitations to Paisley Park and in a funny meme on Twitter about running out of her cheesecake.
In August of 2019, Vanessa made a huge leap of faith and stepped away from her nearly 20 year legal career to embark on her passion: full-time baker and entrepreneur. She has overcome a great deal trying to navigate through the pandemic, but has a great amount of determination and willpower to continue to grow her brand for the world to enjoy.
Cheesecake Funk is based out of our kitchen at the Minneapolis Marriott Southwest hotel, and supplies cheesecakes to numerous restaurants and markets across the Twin Cities. Her cheesecakes are also featured daily for guests who visit Paisley Park in Chanhassen. People may also pre-order cheesecakes directly through her website at Cheesecakefunk.com (please allow 2-3 business days to fulfill orders).
Vanessa is always eager to connect with customers, so reach out at any time should you have additional questions, at vanessa@cheesecakefunk.com.
Vanessa is also dedicated single mother of two children. Her dream is to become known across the world for her cheesecake creations and strives daily to make her children proud. She looks forward to baking for you during your stay.