Main content starts here, tab to start navigating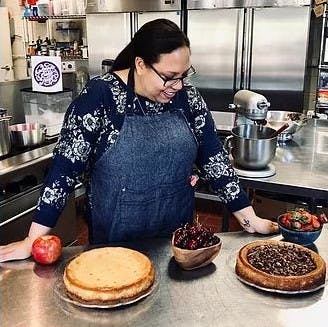 Cheesecake Funk
Vanessa Drews
Blue Birch Restaurant and Cheesecake Funk have partnered together to offer the most delicious cheesecake the Twin Cities has to offer, made right out of our kitchen by owner and founder Vanessa Drews.
Vanessa is a dedicated mother of two children, entrepreneur and honored to bring amazing cheesecake to Twin Cities dessert lovers. Baking and cooking is something she has always enjoyed, but she knew something was special with her unique and delicious cheesecake.
In 2013, Vanessa had the incredible opportunity to connect with Prince and Paisley Park as she was asked to manage the sales of Prince merchandise at his world famous compound during public and private events. It was during this time where she started bringing in cheesecakes to share with staff at Paisley Park and for musicians rehearsing for often long hours at a time. Samples were left in the kitchen for people to enjoy. It wouldn't be long before a certain purple superstar discovered her signature turtle cheesecake and quietly became a huge fan of her culinary baking talent. He wouldn't be quiet for long though.
Prince's fondness of our cheesecakes is such an honor. His gracious mentions of our product to his supporters has made our desserts something people from around the world want. Cheesecake Funk™ has been requested from all areas of the United States, Central America, Europe, France, Germany, Netherlands, and as far as Japan. Many New Power Generation band members are fond of our cheesecakes as well and we are thankful to their continued support as well. In 2018, after years' worth of continued demand and support of our cheesecakes, Vanessa began making plans of launching Cheesecake Funk LLC.
Cheesecake Funk LLC was established by the State of Minnesota in February 2018